Rose Brown Is the Subtle New Hair-Color Trend-In 2018, there has been a dramatic increase in requests for rose hair color.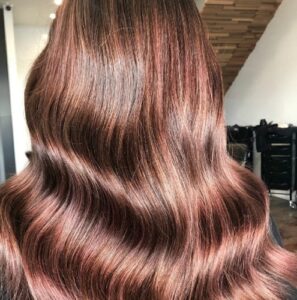 For instance, in Spring time alone, at M2 Salon in Morrisville, NC., we saw several fresh and far-from-boring new ways to wear the popular color, including "desert rose," a combination of pink, purple, and gray tones, as well as arguably the most delicious-sounding so far: "buttered rose gold," a blend of creamy yellow and pastel pink shades perfect for the season ahead.
Now, we're less than two weeks into June and there's already another rose-colored tone being requested by our clients. Beautiful"rose brown," which is a somewhat less complicated than other versions of the pink hair trend. It features an all-over brunette base with touches of blush seamlessly woven throughout.
Do you want to say Hello to a new look with a Rose Brown shade hair color? Margie Sheppard, Owner & Hair Color Expert at M2 Salon says this color is a combination of bleach, Olaplex treatment, and brown and red dyes were used to create the look. This variation of the trend proves especially ideal for natural brunettes who are looking to shake things up without going full-blown rainbow.
Interested in a hair color consultation or just want to book an appointment? Email: margyfinegan@me.com or call 919-257-9007. Online scheduling on this site's APPOINTMENTS page is available.