Fantastic Hair Salon – Serving Durham, RTP and surrounding area!
Hairstylist Margy Sheppard can't wait to share with you her expertise in hair color, haircuts, hair highlights, hair texturizing and esthetician services at her beautifully-designed, M2 Salon, in Durham, NC. M2 Salon is located in the My Salon Suites: Studio111,105 W Hwy 54, Unit 22A, Durham, NC, 27713. Please contact direct with any questions! margyfinegan@me.com or call 919-257-9007. Online scheduling on this site's APPOINTMENTS page is available.

Gift Cards Now Available for Services at M2 Hair Salon with Margy Sheppard!
Clients can now purchase e-gift cards! So excited to announce that y'all can now buy gift cards through my booking website. Just click on the link provided here https://margysheppard.glossgenius.com/gift-cards You will receive a pretty email confirmation with the gift card purchase. I will also receive an email notification. I'll be saving these emails and help you keep track of things in case of any issue! Thank you for choosing M2 Salon Gift Cards as a special gift.
Keratherapy Treatments Book Yours Today! This revolutionary therapy eliminates up to 95% of frizz and curl. Instantly adds amazing shine, silkiness and conditioning to the hair.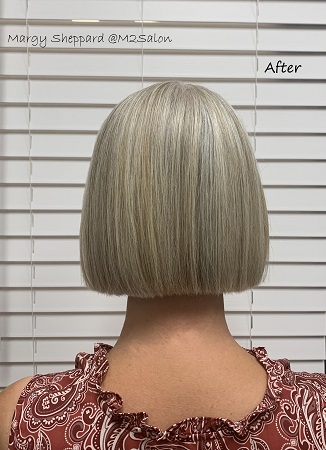 Calura Hair Color by Oligo Professional (Click/Tap) Schedule Hair Color Now
!
Introducing Oligo Professional Hair Care Products at M2 Salon!
Like Us on Facebook & Follow Us On Instagram
You should like M2 Salon NC on Facebook and Follow M2SalonMargySheppard on Instagram! Please take advantage of all the M2 Salon special offers. Margy would love to hear from you!