Ash Blonde Hair You Will Love!-Sure blonde hair gets a lot of attention.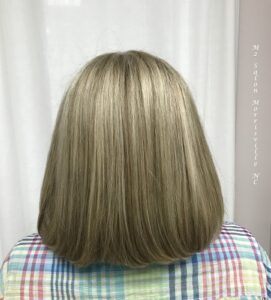 Regardless of the blonde shade chosen it always draws the eye. One of the best things about blonde hair are the number of shades a client can choose from!. If you are thinking about going blonde or are already blonde and want a shade change, in the blonde color pallete there are so many options that there is bound to be a shade that will suit you.
For this beautiful M2 Salon, Morrisville, NC., client she loved the ash blonde look. Ash blonde hair is a decidedly more muted tone of blonde, but it is still capable of turning heads and making the same impact as other blonde bombshell shades.
Light ash blonde, medium ash blonde, natural ash blonde and dirty ash blonde are the most popular tones to highlight the ash blonde hue. Generally, blonde hair color requires a lot of maintenance to keep it looking fresh, but because ash blonde is more muted it doesn't require as much upkeep, which is ideal if you want to educe your hair prep time.
If you are thinking about trying out a shade of ash blonde, consider contacting Margie Sheppard, Owner and Color Expert at M2 Salon. She'll be happy to consult with you on options on joining the ash blonde team or if you already know your shade book an appointment!
Interested in a hair color consultation or just want to book an appointment? Email: margyfinegan@me.com or call 919-257-9007. Online scheduling on this site's APPOINTMENTS page is also available!