Pulp Riot Rainbow Hair Colors– Rainbow Hair Color Pulp Riot Product-Everyone is going WILD for rainbow hair colors, and it's easy to understand why! Whether you go bold and vivid or soft and subtle, this color trend is hands down the coolest way to have hair that is truly unique to you.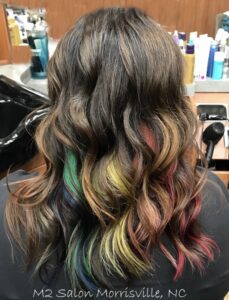 Margy Sheppard Hair Colorist at M2 Salon in Morrisville, NC says that this Rainbow Hair Color combination looks great on all skin tones. She believes that if you have the confidence, you can pull off any color. Just know that the process goes faster the lighter your base hair color is. For the client in this photo, the process took five hours. Each section is separated so none of the bottom colors touch one another. With these vivid colors Margy uses more products and saturates the hair with color. To maintain this beautiful Rainbow Hair Color, you'll want to wash you hair in cool water, but know it doesn't last forever!
Get this fantastic Rainbow Har color look at M2 Salon in Morrisville, NC. Call  919-257-9007. Online scheduling on this site's APPOINTMENTS page is available.