Keratin Treatment and Fall Hair Color–At M2 Salon in Morrisville, NC, Owner and Stylist, Margy Sheppard loves revitalizing tired or damaged hair. After summer sun and water fun, your hair is without a doubt in need of some tender loving care.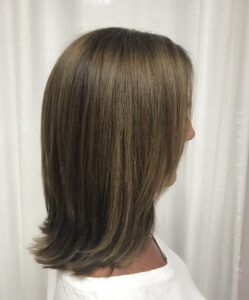 Many of people think that they can't have a color treatment and Keratin Smoothing Treatment all in one session. This photo shows the end result of a Keratin Smoothing Treatment and Color Treatment done in one session by M2 Salon's Margy Sheppard. The key is professional products and experience. Color, during the same session, should only be done by an experienced hair colorist. In this session, Margy used both Wella Hair Color products and Peter Coppola's Keratin Smoothing treatment.
A Keratin Smoothing Treatment helps to smooth and soften any hair type into one with luxurious texture and intense shine. It minimizes frizz 90% – 100%% while reducing curl up to 50%. Peter Coppola Keratin Smoothing Treatment is a Aldehyde-free & Formaldehyde-free Keratin Treatment. This versatile Keratin Treatment doesn't just smooth hair; it safely provides the ultimate anti-aging boost, adds volume and restores hairs youthful look and texture for a minimum of 3 months. The sophisticated formula uses the highest quality ingredients combined with a low pH mechanism to soften and smooth every hair type without the concern of harmful chemicals. Infused with vital Keratin amino acids and damage-reversing Ceramides, this treatment will certainly reduce the amount of time you spend on your hair everyday. It's a game changer!
Contact Margy today  Email: margyfinegan@me.com or call 919-257-9007. Online scheduling on this site's APPOINTMENTS page is also available. Renew your hair with color and get the new Coppola Keratin Smoothing Treatment!
['