Platinum Pixie Hair Cut-Have you ever considered a pixie hair cut? Doesn't this platinum pixie cut done by Margy Sheppard, Owner and Stylist at M2 Salon in Morrisville, NC, give you a bad case of hair envy?!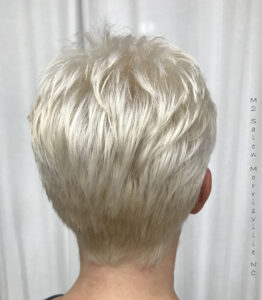 A pixie cut is a short women's haircut you typically see on a very fashionable woman. Or, if you are a tomboy at heart or just want to shake things up a bit and don't mind a crop, definitely go for a pixie haircut 🙂 You may lose most of your locks hair may be very short, but what you gain is a simple wash-and-go style, an added edge to your looks and lots of compliments.
Sticking to the classic pixie cut, you may opt at the same time go for a trendy hair color, such as this gorgeous platinum blonde. What makes this beautiful pixie stand out is the combo of layers and precise cuts, basically two contradictory things. Layers soften the straight cut nape and angled pieces in front of the ears creating a sophisticated style in a short length that looks 100% feminine.
Add some fun in your life. Get a Pixie Hair Cut and add some hair color! Email: margyfinegan@me.com or call 919-257-9007. Online scheduling on this site's APPOINTMENTS page is available.