FUNKHUE PINK M2 Salon Durham NC – Hair Color Specialist Margy Sheppard at M2 Salon uses Oligo Pro FUNKHUE for all of her fun semi-permanent hair color options. Below, we're showing one of Margy's clients after a recent FUNKHUE Pink semi-permanent color application. How fun is this?!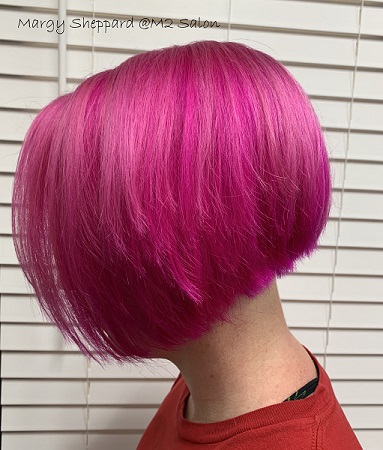 Sometimes you just want to think outside the natural hair color box and mix it up with a rainbow hue. Margy says that FUNKHUE shades are all the rage, appointment requests are up dramatically; scroll through social media and you'll see exactly what she means. Margy's take is that the nice thing about dipping into a more dramatic dye is that options such as FUNKHUE are semi-permanent, which means it will gradually fade over the course of several weeks/shampoos. Think of it as an option to go bold, without having to make any kind of serious color commitment!
Margy strongly recommends consulting with a hair color professional to help avoid crazy color mistakes!!! This isn't self promotion, but advice based on experience. She says to keep in mind that the base shade you're starting with will definitely affect the end result; generally speaking, bright tones work best on bleached or blonde hair. (If you're starting with a darker color, you may want to consider lightening it first, or seeking out formulas specifically made for brunettes.)
From Oligo Pro:
Define Funky: fashionable in an unusual and noticeable way.
Define Hue: a degree of lightness, darkness or strength of a color.
Combine them to get a fun and fierce line offering many shades of semi-permanent hair color!
Are you contemplating or ready to book a semi-permanent hair color option? Contact Margy Sheppard via Email: margyfinegan@me.com or call 919-257-9007. Ask your questions and reserve your appointment for FUNKHUE PINK at M2 Salon Durham NC!