Hair Care Tips For After Color And Or Highlighting Services-Hey Durham, NC.! Do you love that smooth, shiny hair you get right after hair color and/or hair highlighting services?! Margy Sheppard, Durham, NC,. M2 Salon Owner and Color Specialist, offers the following after care tips for haircare following hair color and/or highlighting services. These tips can enhance and extend that shiny smooth look that you love about hair color and highlighting services!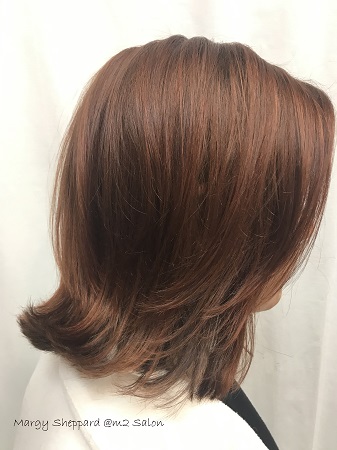 How to Keep Hair Beautiful After Color and Highlight Treatments:
1. After coloring, wait a full 72 hrs before shampooing.
2. Use sulfate-free shampoo and conditioner.
3. Give up hot water in the shower. Wash and condition hair with cool water.
4. Use a leave-in conditioner after every wash.
5. Pamper your hair twice a month with nourishing treatments such as a hair masque.
6. Protect your hair from blow dryer and hot hair tools heat damage. Use a leave in heat protectant spray prior to blow drying.
7. Wash hair less often. Every other day is okay. but every three days is optimal!
8. On off days, use dry shampoo.
Book your hair color and/or highlights appointment with Margy today! Like to book online? Use this BOOK NOW link. Prefer to email or call? Email: margyfinegan@me.com or call 919-257-9007.