New 911 Quinoa Hair Care Products Collection-The new 911 Quinoa Hair Care Products Collection is now available at M2 Salon in Morrisville, NC! Okay, you know you've heard of Quinoa?! Quinoa (pronounced KEEN-wah) is a flowering plant in the amaranth family. It is an herbaceous annual plant grown as a crop primarily for its seeds that are rich in protein, B vitamins, and minerals.So, of course, anything that rich in protein has to be great for hair. Right? Absolutely!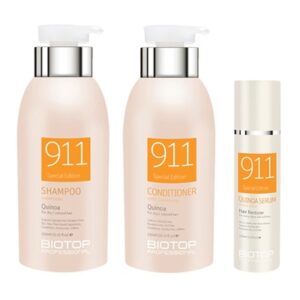 Biotop Professional's 911 Quinoa hair care product collection nourishes and restores hair from within, giving dry, damaged and lifeless hair an energetic boost thanks to 10%+ pure quinoa extracts. Using pure quinoa extracts, vitamin E, essential oils and pure water, each product from this series has been specially formulated to treat dry, damaged or brittle hair. Each product protects and strengthens hair, imparting impeccable shine and an unbeatable healthy glow. My clients are experiencing improved hair growth, hair shine and fullness. It truly acts as a restorative, repairing damaged hair!
note: Biotop Professional's products are not tested on animals.
An absolute favorite is the Nutritive Shampoo formula with quinoa extract vitamin E, macadamia and argan oil, for damaged and lifeless hair. The creamy, reparative shampoo cleanses the hair while providing optimal nutrition and moisture. Free of paraben, sodium chloride, and SLS/SLES.
Proudly performs on all hair types: Zero fragrance allergens

Also safe for wigs, weaves, and extensions
Conditioner 911 Quinoa is the best conditioning treatment for damaged and lifeless hair.Contains quinoa extract, vitamins, coconut and argan oil that restore health, strength, moisture and help tame frizz and repair breakage. Free of paraben, sodium chloride, and SLS/SLES.
Grab the hair oil treatment for strength, revitalization and healthy glow. This extraordinary oil-to-foam treatment uses keratin, vitamin E, B5 and castor oil to rebuild, hydrate and nourish damaged, lifeless hair, creating sumptuously soft, brilliantly shiny locks. For best results, use once a week.
It's all available at M2 Salon, Morrisville, NC!