Multiple Colors To This Brunette Hair-If you have brunette hair color add a lot of depth and fun to your hair with subtle highlights.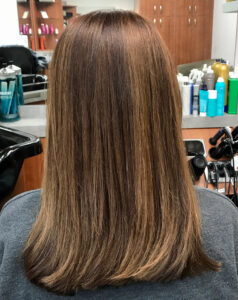 Because single-tone locks don't surprise anyone today, this M2 Salon in Morrisville, NC client wanted to stay a brunette, but wanted depth and a bit of color. Highlights, ombre and color blocks refresh and update your hair color, add depth and texture to your hairstyle, endowing your overall look with a sexy, glamorous flair. Playing with hair color is fun if you trust the job to a professional. Once you have made a decision to add some color, just contact Margy Sheppard at M2 Salon in Morrisville, NC! She will discuss what you would like and offer a bit of advice on achieving the look.
These highlights are expertly placed to naturally blend with the clients hair. If you want an expert hair colorist contact Margy at Email: margyfinegan@me.com or call 919-257-9007. Online scheduling on this site's APPOINTMENTS page is available.. She can make it happen!